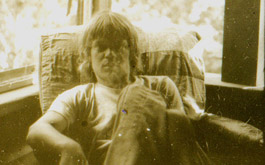 After reading
You Can't Come Halfway Home From the Bar
By Ian Daly on Poetry Foundation's Harriet Blog, I thought that I might relay some memories I had of the The Heart is a Quarter Pounder book release in 2005. Daly article is a rare and awesome sojourn that captivates its reader from the first word on. 
Boulder. 04
I first heard of Jeffery Miller at Naropa, from Tyler Burba and Tom Peters. Tom pulled out an old copy of The First Ones Free at his bookstore on Pearl Street, the infamous Beat Book Shop, and began to read a few poems. Later that night at the Corner Bar sitting with Tom, Tyler, Andrei Codrescu, and a collection of people who gravitated towards him, Tyler hit me up that we were in the running to get a manuscript that Andrei was saving - a sort of collected Jeffrey Miller. This is my first memory of The Heart is a Quarter Pounder (Farfalla Press 05). 
Monte Rio, California
Book Release. 05
We had it printed in Denver. Collin McMillan and I met at the Oakland airport where I had five boxes of the new book stacked next to my backpack. Stayed in North Beach close to City Lights and China Town, Peep Shows, Gnats, and the Vesuvio. We had lunch with Andrei and Bruce Cheney, and then hit the town. Jeffery sent us a gift that night in the form of two tiny ballerinas that liked Jameson and out of town boys who could hold their liquor. We parted with them that next morning and made our way north to Monte Rio with Andrei and his wife.
At a sort of pre-party at Pat Nolan's house I see David Bromage, Gloria Frym, Joanne Kyger, Michael Rothenburg, Bowie Nolan and many others. We eat food and sit outside writing and passing a poem around. I have a distinct memory of Bromage sitting on the porch and listening to the birds. Pat showing me beautiful broadsides from the 70's hung on his wall and talking to me about forestry and the land outside the house and how there are trees outside as old as our collective 'America'. I think about time and the soil and how Jeffery is a part of that now and grows here with the sun touching his branches and this made sense with all that I had seen so far. Kyger who walks, much more like a glide, a sort of movement with grace, asks me about my shirt. I'm wearing a white button-up shirt with small cigarette holes toward the bottom of the garment. She says, do you have another shirt? I remembered my small knapsack and said, yes I'll put it on. We go outside, smoke, laugh and she talks about the foliage in the makeshift garden in front of us. I feel like she is perfect, a one-of-a-kind person you meet in a lifetime of regulars, if you look close enough she glows. That night Collin and I go to a nightclub with Bowie, but if I remember right Collin loses his ID, so we mostly just drove the country.
The book release was beautiful, people relating stories about Jeffery and having a good time. Bruce showing the tattoo on his arm, a quarter pounder, while on stage. All the readers enchanted in an individual time warp. The night let the past mingle with grandkids, heartbreaks, guilt, triumph and the human spirit of the poet that is Jeffery. Stuck inside the pages as well as in the hearts of the crowd.
That next day I saw the stump where Miller had died. Around a bend, if I remember right, thick base of a tree lowered to its roots. I had been in the world three months when Miller came around that corner in 1977, my mother not twenty years old. I started to wonder who else had walked here, pulled their car to the side of the road and picked up the dirt and held it, dumbfounded looking around.
Back in San Francisco we depart from Tristessa Café where Collin and I leave Andrei and Bruce to their cups of coffee, we hit ten bars that night and never tire, feeling lucky and blessed.